DNU Diploma Is a Lucky Ticket to the Future
The Oles Honchar Dnipro National University hosted a solemn presentation of higher education diplomas to foreign students. This year, 10 students from 6 countries became graduates of DNU.
A friendly team of foreign graduates, a large team of their mentors and DNU management, as well as distinguished guests – former foreign graduates, and now friends and partners of our Alma Mater – gathered for the graduation ceremony. Therefore, it is not surprising that on this joyful day, different languages were heard in the award hall, because the long-awaited (and well-deserved) Ukrainian master's degrees were awarded to representatives of Azerbaijan, Guinea, Zimbabwe, China, Russia and Turkmenistan. Among them are graduates of five faculties, the Educational and Methodical Center for Postgraduate Education and Advanced Training and the Educational and Methodical Center for Distance and Evening Forms of DNU. These graduates have become specialists in International Economics, Management, Biology, Sociology, Philology, History and Archeology.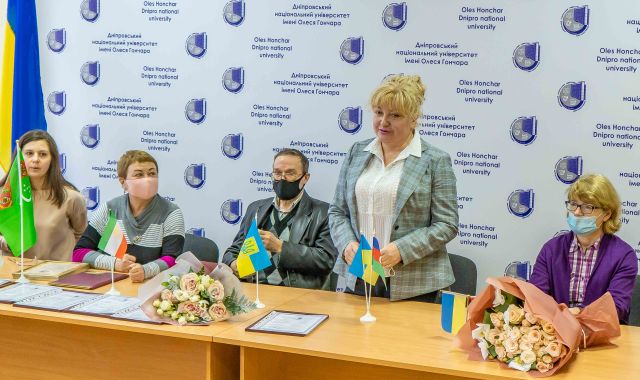 The words of congratulations and support to the foreign students of DNU were first addressed by the Acting Rector, Professor Olga Sokolenko: "Dear graduates and for now our colleagues! I am grateful to you that you – each from his own country – found the opportunity to acquire knowledge at the Oles Honchar Dnipro National University. Together with our team of professionals you have come a long and, indeed, difficult way. So I sincerely congratulate you on the successful completion of your studies and the receipt of honorary diplomas of the highest qualification of the new model!", Olga Sokolenko said at the opening of such an exciting event. After returning home, Mykhailo Dyachenko, Vice-Rector for Scientific and Pedagogical Work in the Field of International Cooperation of the DNU, wished the young specialists future success. "I sincerely wish that you in your native countries become not only real professionals, but also worthy representatives of the DNU. Remember that the doors of our Alma Mater are always open for you, your family members and friends", Mykhailo Dyachenko emphasized.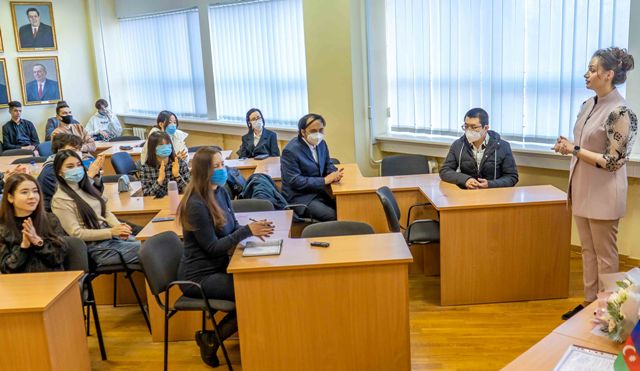 But the Head of the department of training specialists for foreign countries and academic exchanges of DNU, Associate Prof. Krystyna Heti, on the contrary, recalled how much foreign students have changed over the years of study in Ukraine. "In these six years, you have become different: you have grown significantly and matured, some of you have even found your love here and started a family. Now look at yourself and rejoice in these changes. And be firmly aware that from today – the day of awarding diplomas of higher education – your childhood is officially over. And what do we usually take from childhood? Of course, it is a dream. So don't stop dreaming – set high goals and achieve them. And if it was not difficult for you to rise on the path of life, keep trying no less than you tried here. Always remember your full start in Ukraine, and let the master's degree of Oles Honchar Dnipro National University literally become a lucky ticket to the future for you!", wished foreign students of DNU Krystyna Heti.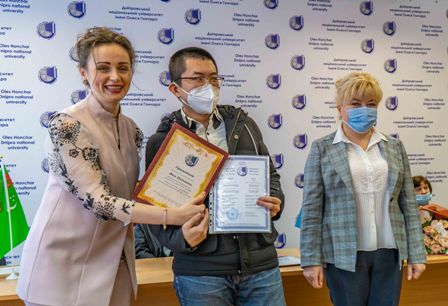 Hui Qingxiang from Sichuan Province (PRC), a graduate of the DNU Preparatory Department (Department of Translation and Linguistic Training of Foreigners, Faculty of Ukrainian and Foreign Philology and Art Studies), sees successful prospects for her own professional destiny in the Homeland. In China the girl has already obtained a bachelor's degree in Economics, and now plans to complete a master's degree in "Ukrainian language and literature" or "Russian language and literature" in Ukraine. "Ukrainian diploma is valued and recognized in my country, so I hope that when I return home I will be able to easily find a job as a teacher of Philology. At the moment I am very satisfied with my stay and studies in Ukraine. Dnipro is a very beautiful and cozy city with a pleasant climate, interesting buildings and nice people", the Chinese student shared her impressions.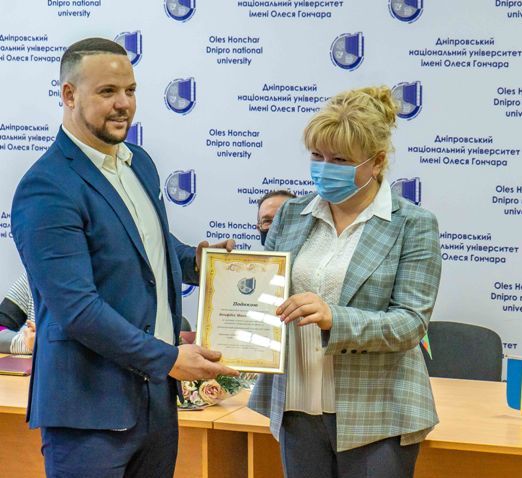 Two graduates of the Oles Honchar Dnipro National University, who attended the graduation ceremony of their colleagues, have similar positive emotions and memories from Ukraine. Today, Cameroonian Tambe Oji Gideon and Moroccan Benfdil Mohammed Ilias have become good friends and full partners of our university in their homeland. Both foreigners are a kind of link between Ukraine and applicants from their countries. For example, Tambe Oji Gideon, a graduate of Computer Science at the Faculty of Physics, Electronics and Computer Systems, is now the director of Megastudies, the official partner of DNU in attracting students interested in Ukrainian education. "I remember Ukraine as a beautiful country, where I was absolutely comfortable. During my years of study, students and teachers of Dnipro National University have become for me like the only family with whom I have experienced many different situations. Out of gratitude to Ukrainians for their warmth and support, I decided to help foreigners discover Ukraine. So far, I see how successful this decision has been, as there have been many interested foreign entrants. Applicants from Afghanistan, Cameroon, China or Turkmenistan, whom we helped, show great interest in education in Ukraine in the field of Computer Technology, Management, Slavic Philology and other popular areas", said Tambe Oji and was thanked that day. DNU for many years of fruitful cooperation.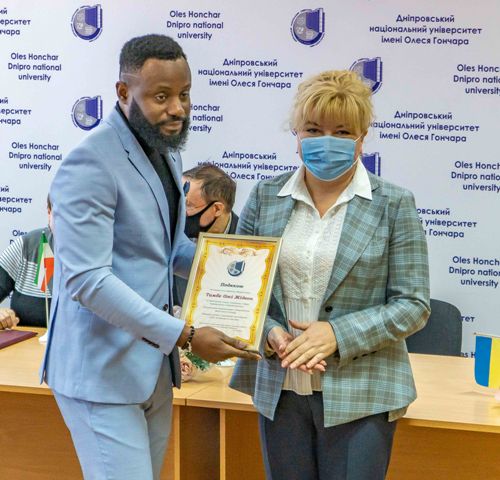 It should be noted that among foreign students of DNU in general the greatest demand is for almost all technical and natural specialties, as well as the medical field. In total, about 150 students from more than 20 countries study at Oles Honchar Dnipro National University: among them – 98 bachelors and 11 masters, other foreigners are studying at the preparatory department or graduate school of DNU.
Інформаційно-аналітичне агентство
Дніпровського національного університету