Department of Comparative Philology of Eastern and English Speaking Countries
Gagarin avenue, 72, Dnipro, 49010
Tel.: +38 (056) 374-98-79
E-mail:
kafedra_UPF@i.ua
The Head of Department is Professor Victoria Lipina, Doctor of Philological Sciences, Full Professor, the founder of the Department in 1993.

The Department staff includes: 1 – Professor; 3 – Associate Professors, 2 – Assistant Professors, 5 – Senior Lecturers, 6 – Instructors.

The Department enrolls students for majoring in Chinese or Japanese (B.A, M.A, and PhD study programs). The curriculum includes courses in Chinese/Japanese/English/Turkish, Chinese/Japanese Literature, Classical Chinese etc. The Department accepts students for graduate study leading to the degree of Doctor of Philosophy.

B.A. students may apply for one-year scholarships to study in China or Japan.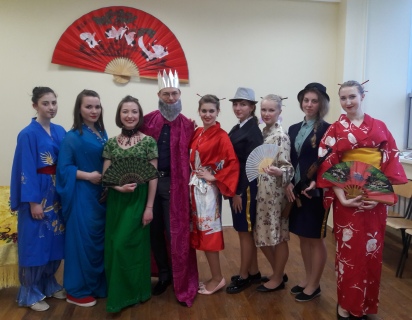 Dramatized fairy tale "The Emperor and the Nightingale": Сhinese story with Turkish accent


The research mission of the Department is the exploration of transcultural (language and literature) phenomena that results in published monographs, articles, chapters in books in Ukraine and abroad: Beijing, New-York, Salamanca, Tübingen, Ankara. Among the latest publications: "The Transformation of American Orientalism: The Chinese Novels of Pearl S. Buck", published by Professor Victoria Lipina in a book "New Pilgrimages" (Beijing: Tsinghua University Press, 2015).

The Department staff are the members of international research organizations (IAUPE, EACS).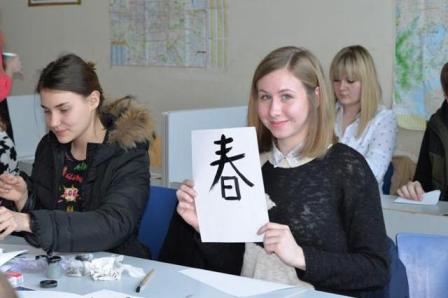 Сalligraphy class


International student mobility for short- and long-term language study in China and Japan is not only an important aspect of Department concerns but also an invigorating stimulus for students' professional training.

Students have an opportunity to enlarge their cultural competences participating in extracurricular activities as members of student club "Dialogue of cultures: East-West". In 2014 our student Yana Oliyarnick, the participant of this club, became the prize winner in Japanese Translation Competition of T. Shevchencko's poems.

We are proud of our outstanding alumni Anna Sedova and Nadezda Kirnosova who have successfully defended their doctoral theses at leading Chinese universities, Juriy Skulditsky, who works at the Ukrainian Embassy in Japan, and Cyril Yaroshik, employed by Japanese Embassy in Ukraine.

The students of Oriental Department obtain today one of the most prestigious and globally demanded profession.