Chair of Zoology and Ecology
Address: Dnipro, Kazakova Str. 24, 17 build. Oles Honchar Dnipro National University
E-mail: zoolog@i.ua
Website: www.zoology.dp.ua
The Head of Department is
Pakhomov Olexander Evgeniovych
, Dr.Sci. Biol., Professor, Honoured Worker of Science and Technology of Ukraine.
Staff:
- Dr.Sci., Professor. O.E. Pakhomov, Dr.Sci. O.V. Zhukov, Dr.Sci. Y.L. Kulbachko;
- Ph.D., Candidates of Biological Sciences, Associated Professors: V.Y. Gasso, Y.P. Bobylev, V.V. Bryhadyrenko K.K. Goloborodko, O.M. Kunakh, R.O. Novitski, O.L. Ponomarenko, O.A. Reva, L.I. Faly, T.M. Colombar.
The Department trains students both in
Biology
and
Ecology
.
Here you can get
:
• Bachelor Degree in Biology;
• Bachelor Degree in Ecology;
• Master Degree in Zoology;
• Master Degree in Ecology.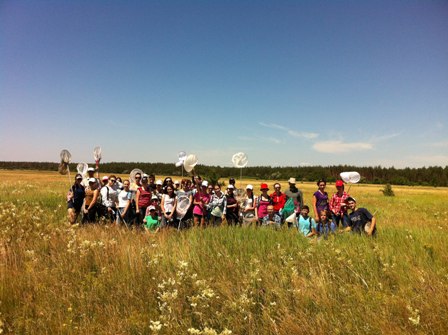 The Department also provides further educational levels
:
1. Postgraduate Course for Research Doctorate (PhD)
2. Institution of Doctoral Candidacy (Doctor Habilitation).
There is the Specialized Academic Council for the defence of a PhD and Habilitation theses in Ecology (03.00.16).
The students undergo research and practical training throughout Ukraine: research institutes and industry, Prysamarsky International Biosphere Station named after O.L. Belgard, various Nature Reserves and National Parks, e.g. Biosphere Reserve "Askania-Nova", "Great Meadow", "Dniprovsko-Orilsky" etc. Zoological Museum and Aquarium are the valuable source of knowledge and experience for our students.
For many years a lot of students of the Department are winners of All-Ukrainian Student Research Competitions in Biology and in Ecology.
Research priorities:
- Zoogenous mechanisms of soil remediation and reclamation of ecosystems under the intense anthropogenic pressure;
- Anthropogenic dynamics of animal communities, the prospects for their protection, optimization and environmental management;
- Functional role of animals in ecosystems;
- Ecotoxicology. Development of complex ecological and biochemical assessment of animal communities under the anthropogenic stress;
- Inventory and ecological assessment of the stock of nature.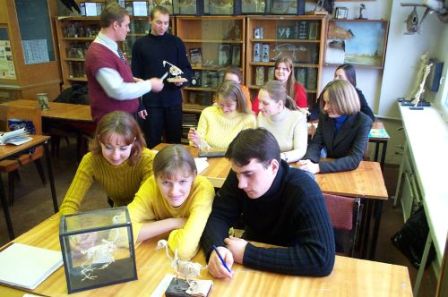 Prof. O.E. Pakhomov is an Editor-in-Chief of two scientific journals indexed in in Web of Science: «Biosystems Diversity» and «Regulatory Mechanisms in Biosystems».

International cooperation:
EU FP7 Project. Developing a Knowledge Network for European expertise on biodiversity and ecosystem services to inform policy making economic sectors, 2010–2014 (Dr. V. Gasso, invited expert);
EU FP6 Biostrat Project (Developing the EU Biodiversity Research Strategy), 2006–2010. It developed mechanisms for communication and information between European researchers and policy makers with the following outreach to European and international activities in the field of biodiversity research (Dr. V. Gasso);
Project 2015 "Product & Process Management. Environmental Focus - Engineering Study in English" supported by Fundusz Stypendialny i Szcoleniowy and Norway Grants. Poznań University of Economics, Poland. (Prof. O.Pakhomov, invited expert in Ecology);
Bilateral Ukrainian-Hungarian project, 2009–2010. Partner organisation: University of Debrecen, Centre of Agricultural Sciences and Engineering, Debrecen, Hungary. (Prof. O.Pakhomov, Leader of the Project; Dr. Y.Kulbachko);
Convention on the conservation of European wildlife and natural habitats (Bern Convention) Group of experts on the conservation of amphibians and reptiles. Dr. V. Gasso, expert for Ukraine (from 2015);
Association for the Conservation of Biodiversity of Kazakhstan, 2013 (Dr. K.Goloborodko, invited expert);
Heidelberg Cement: The Quarry Life Award. National Jury from 2012 (Prof. O.Pakhomov, Dr. V.Gasso);
Delivering Alien Invasive Inventories for Europe (DAISIE) (Dr. R. Novitski).
Ukrainian Working Group of IUCN/SSC Declining Amphibian Populations Task Force, in 2006 it became a part of the IUCN Amphibian Specialist Group (1995–2005).
Students of the Department of Zoology and Ecology take active part in different social, cultural and educational events in the University and beyond. They participate in international and national projects, sport competitions, tourism and volunteer programs in Ukraine and abroad.