Chair of Theory of Law, Constitutional Law and Public Administration
Phone: + 38 (056) 377-81-93
The Head of Department is
L.M. Mudrievska
, Doctor of Law, PhD, Associate Professor.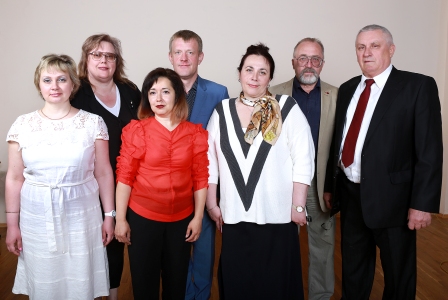 In 2009, after the reorganization of structural units of the Faculty of Law department received its present name "Theory of law, constitutional law and public administration".
Currently the department is headed by Doctor of Law, PhD, Associate Professor
L.M. Mudrievska
– a specialist in the history of law, author of over 60 scientific and methodical works. At the department there are: Doctor of History, Professor.
K.A.Markov
, Doctor of Law, associate
I.Y. Slovska
, PhD, associate
A.V. Hrabylnikov
,
T.M. Zavorotchenko
,
M.I. Sayenko
,
V.M. Malyshko
, k.i.n . Assoc.
V.O. Chukayeva
, PhD Public Administration
O.V.Kornyeva
, Ph.D.
Y.V.Chystokolyanyy
.
Among the subjects taught Department at the Faculty of Law are the following: "Theory of State and Law", "Constitutional Law of Ukraine", "Constitutional law of foreign countries", "Municipal Law", "State Building and Local Self-Government", "Constitutional rights, freedoms and duties of citizens of Ukraine". For Masters taught courses: "Methodology and organization of scientific research", "Methods of teaching professional subjects in high school"/
Faculty in technical and natural faculties teach the subject "Principles of Constitutional Law", "Law", "Offense and legal responsibility", "Human rights and freedoms in the modern world".
Among the results of scientific work should note the collective monograph: T.V. Kornyakova, О.L. Sokolenko, K.A. Markov and others "Criminological characteristics of crime in history", T.M. Zavorotchenko monograph "Political rights and freedoms of man and citizen in Ukraine: theoretical framework and implementation issues". A total of 90 published scientific and methodical work within a certain topic.
Theory of law, constitutional law and public administration department is graduating with masters training on the specialty "Public management and administration".
Since 2014 began at the Department of regional round tables on topical issues of state.