Chair of Civil, Labour and Commercial Law
Phone: + 38 (056) 373-12-68
The Head of Department is
Alekseenko Igor Grigorievich
, Candidate of Legal Sciences, Doctor of Political Sciences, Associate Professor.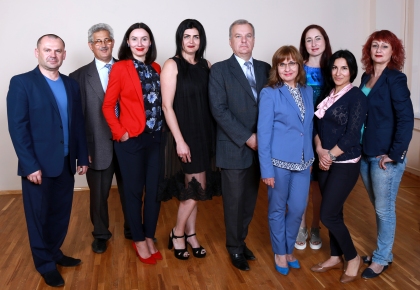 Educational process is provided by 2 doctors of Sciences, 7 associate professors and 4 senior lecturers. The Department trains specialists in the sphere of civil, labor, commercial, land's, agrarian law and procedure on educational and qualification levels: "Bachelor", "Specialist", "Master" in the branch of knowledge "Jurisprudence".
Scientific activity of scientists is carried out within the research work of the Department:
"The State and prospects of legal regulation of protection of human subjects of civil and commercial law in Ukraine"
. The results of researches were tested on more than 60 scientific conferences, among which 35 are international. In the past five years, defended 5 theses, including: 3 Ph. D. (Assoc. Professors: Marchenko O.V., Zabrodina O.V., Borisova V.O.) and 2 doctoral (Candidate of Legal Sciences Alekseenko I.G., Candidate of Legal Sciences Paterilo I.V.)
The Department has a student scientific circle «Veritas», where under the guidance of Department's scientists, students are engaged in preparation of scientific articles and reports. They are presented at Ukrainian national student forums and international conferences. Over the past three years under the supervision of the Department, about 200 students were prepared and published scientific articles, abstracts in different scientific journals.