Department of Chemistry and Chemical Technology of Macromolecular Compounds
Phone: +38 (056) 760-84-29
The Head of the Department is Ph. D, Assoc.
Varlan Konstantin Yeliseyevich.
Faculty:
Professor of the Department:
Dr. tech. sci., Professor Sporyagin Eduard Alekseevich; Dr. tech. sci., Assoc. Ustimenko Evgeny Borisovich.
Assistant professors:
Ph. D., Assoc. Nesterova Elena `Yurievna; Ph. D., Assoc. Podzharsky Mikhail Abramovich; Ph. D., Assoc. Surovtsev Alexander Borisovich.
Senior lecturers:
Kositsyna Elena Sergeevna, Podkamennaja Lidia Ivanovna, Pugacheva Anna Sergeevna.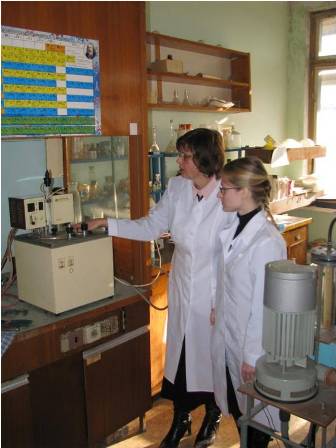 The Department prepares for bachelors in a direction "Chemical technology", specialists and masters in specialty "Chemical technology of macromolecular compounds". The training takes place in classrooms and laboratories of the Chemical faculty, as well as a branch of the Department at the state enterprise "NPO "Pavlogradchemicalplant". Students pass an industrial practice at the leading enterprises of the industry. Training program provides training for industries for the production of special materials based on macromolecular compounds. The level of engineering and technological training allows graduates of the Department successfully work on any equipment of chemical productions, plants for processing plant and animal raw materials, food production. Graduates of the Department are professionals.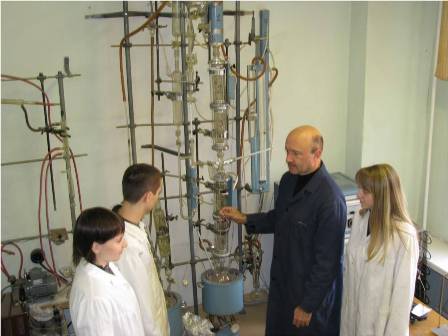 The main scientific direction of the Department is connected with development of methods of synthesis and technology of obtaining polymer compositions of special purpose on the basis of compounds from synthetic and natural raw materials, as well as the study of the laws and ways of regulation of thereological properties of highly filled compositions in a polymer binder. The Department operates postgraduate and doctoral studies in the specialty 05.17.07 – Chemical technology of fuel and lubricants.

Since 2013 the Department of training foreign students. All nonresident students live in comfortable dormitories of block type, located near the academic building. For leisure activities students have a wide selection of sports sections, clubs and studios of various creative directions.