Chair of Automated Control Systems
Address: Dnipro, Naukova street 1, building 10
The department on the site of the faculty (in Russian):
http://fti.dp.ua/?page_id=80
The Faculty of Physics and Technology on the VK social network (Russian, Ukrainian) Вконтакте:
https://vk.com/fizteh_dnu
The Head of the Department is
Anatoliy Kulabukhov
, PhD, associate professor. Over 160 scientific and methodical published works. Chairman of the scientific and methodical council of the faculty, secretary of the scientific and methodical commission "Avionics" at the Ministry of Education and Science of Ukraine, head of the students' design office.
Professors and teachers:
Professors:
Volodymyr Larin
: optimal control, radiolocation.
Volt Avdeyev
: digital systems, control of space systems.
Sergiy Zirka,
electrical engineering, processes in ferromagnetic materials.
Associate professors
:
Yuri Chaska, Yuri Moroz, Tatiana Labutkina, Oleksandr Holubek.
Senior teachers:
Volodymyr Bielikov, Ihor Savchenko.
Affiliation of the department at the Design Office "Yuzhnoye":
Prof.
Oleksandr Novikov
, associate prof.
Ihor Pyatak
, senior teacher
Dmytro Hroshelev
.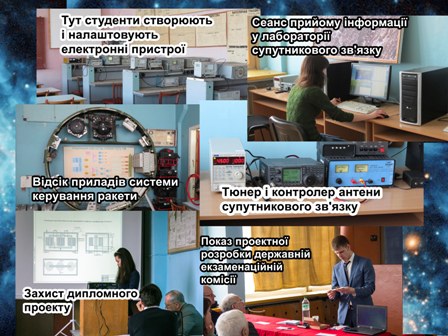 The Department provides training in the field of electronics and telecommunications. Two majors are available: 172
"Telecommunications and radio engineering"
and 173
"Avionics"
. Educational levels: bachelor, master, PhD. The department has six educational laboratories.
Scientific activities: space vehicles for remote sensing of the Earth, control systems of launch vehicles and spacecraft, space information systems, attitude determination and control systems, navigation systems, mobile and satellite communications, automation and control systems for enterprises, processes and phenomena in ferromagnetic material.
In cooperation with West European universities within a TEMPUS project, a laboratory of satellite communications was created. Together with Cardiff University, research in processes in ferromagnetic materials is carried out. Students have a possibility to pass training at leading West European universities and obtain European diplomas.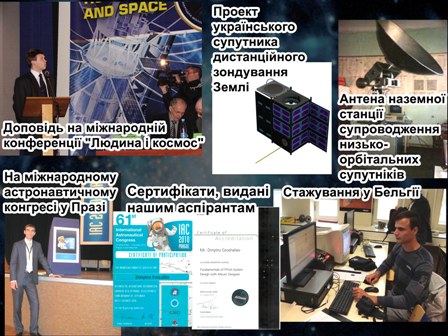 Students from Italy, Brazil, India, Jordan, Tunisia, Lebanon and Kazakhstan studied at the department. All of them have made successful careers at national space agencies, high-tech companies and universities of different countries.
Students participate in educational and scientific work, students' self-government, mass and cultural activities. Their achievements in scientific, practical and research work are demonstrated at the defense of their degree projects and papers, competitions of students' works and international scientific conferences.