Come to the Motherland with Knowledge!
The ceremony of graduation to foreign students took place at Oles Honchar Dnipro National University. In total in summer graduation 41 foreign citizens received greetings with successful study graduation and honored diplomas.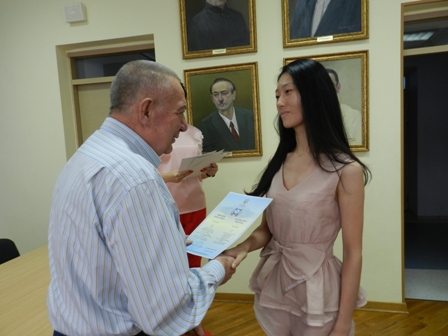 This year citizens of 10 countries (Azerbaijan, Angola, Vietnam, Cameroon, the People's Republic of China, Morocco, the Russian Federation, Turkey, Turkmenistan and Uzbekistan) became graduates of DNU. They are representatives of 9 faculties: Economics; International Economics; Ukrainian and Foreign Philology and Studies of Arts; Physics, Electronics and Computer Systems; Systems and Means of Mass Communication; Social Sciences and International Relations; Law Department, Faculty of Chemistry and Faculty of Geography. Students of faculty of International Economics were the most industrious among foreign students. It is they who have received two diplomas with honors this year.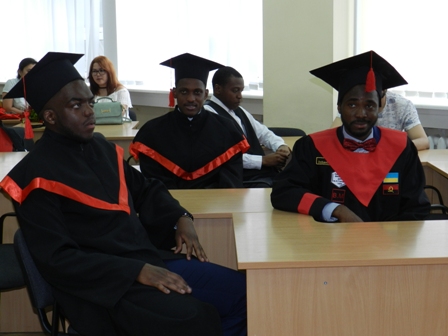 Mykola Polyakov, rector of DNU, Mykhailo Dyachenko, Vice-Rector on Scientific and Pedagogical Work in the Field of DNU International Cooperation, as well as staff of Training Department for Foreign Countries and Academic Exchanges of DNU took part in graduation ceremony.
Rector has congratulated foreign students paternally warmly. Mykola Polyakov expressed his sincere hope that students will keep the memory of our university and Ukraine throughout their lives.
Mykhailo Dyachenko, Vice-Rector, has congratulated foreign citizens with a remarkable event – the completion of the first stage of higher education.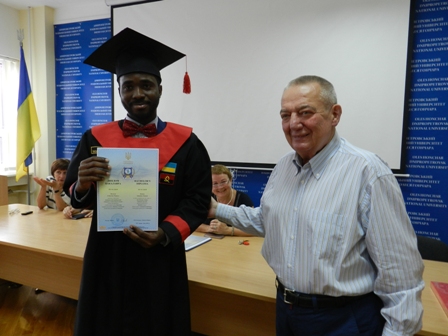 Maksat Oraznukhanmedov, a student from Turkmenistan, told us about the experience of studying in Ukraine. A guy from Ashgabat has a special achievement – he has already received the second bachelor's degree at Oles Honchar Dnipro National University. To Dnipro city Maksat arrived in 2011 on the recommendation of his uncle, who 30 years ago graduated from the Faculty of Chemistry of DNU and stayed in our city. At first, Maksat had been studying for half a year at Dnipro State Medical Academy, but then he has realized that he did not want to be a doctor at all. After that he entered our university at Faculty of International Economics.
Already having a bachelor's degree in International Economics, Turkmen student at the request of his parents also became a student of our Faculty of Economics. There he successfully studies the science of accounting and auditing. In such way he commented his study and further plans: "Now I am going to graduate from the magistracy and in a year and a half I would like to return home. In my motherland I will work as a research fellow. For this I am grateful to Ukraine. I will never forget you!".
Інформаційно-аналітичне агентство
Дніпровського національного університету