Masters of DNU Got Polish and Ukrainian Diplomas
Masters of the Department of Physics, Electronics and Computer Systems defended by program of 2 diplomas of university-partners: Oles Honchar Dnipro National University and Pedagogical University in Krakow (Poland). During the presentation gainers and examination committee from both universities hold video conference.
Scientific and technological cooperation between DNU and Pedagogical University in Krakow has lasted since 2010. Mykhailo Trubitsyn, dean of the Department of Solid State Physics and Optoelectronics from Ukrainian side and Yan Sukhanich, professor from Polish side coordinate cooperation.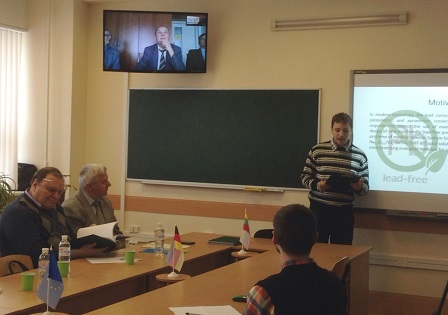 In 2016, an additional agreement was signed between the universities on the joint study at the Department of Solid State Physics and Optoelectronics of the Masters Group 104 in the fields of Physics and Astronomy and 105 Applied Physics and Nanomaterials (selection / specialization "Solid State Optoelectronics") with the issuance of two diplomas from partner universities upon graduation study.
The coordinators of this agreement are Professor Mykhailo Trubitsyn and Associate Professor Tatyana Shvets from Ukrainian side, Dr. Renata Bujakevich-Koronskaya, deputy of the director of the Institute of Physics PU from Polish side.
For joint study of groups of graduates-bachelors of appropriate specialties, the curricula on the basis of disciplines taught in DNU, and three disciplines of the Institute of Physics at Pedagogical University in Krakow were formed.
The presentation of diplomas was held in such regime: the report of the applicant, colleagues's questions from Ukrainian and Polish sides, the answers to the questions. Then the leaders of graduate students read the reviews. They noted that all the applicants: Anton Tuluk, Serhiy Posmashny and Oleg Ogienko had publications, including articles in magazines, indexed by the Scopus database.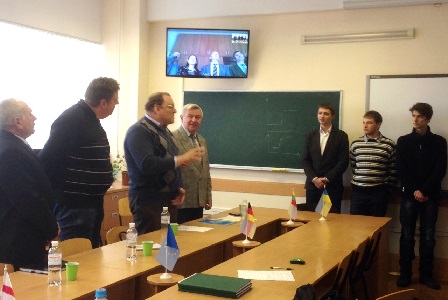 Professor Serhiy Plaksin and Professor Ryshard Radvansky – heads of Commissions on Ukrainian and Polish sides – acquainted gainers with the decisions: all the students coped with the presentations perfectly and received 100 points. They were recommended to enter the Graduate School and to publish project results. Professor Radvansky emphasized that Polish colleagues were very satisfied with the level of training of our students and organization of the presentation. He expressed his sincere hope for further mutually beneficial cooperation.
Masters Anton Tuluk and Oleg Ogienko have already informed about intention to continue their postgraduate studies. Nowadays the opportunity of collective study organization in Graduate School with appointment of 2 leaders from DNU and Pedagogical University in Krakow is discussed.
The presentation was held at high organizational level due to the usage of the multimedia class of the Department of English Philology in the main building of the University.
Інформаційно-аналітичне агентство
Дніпровського національного університету