DNU signed an agreement with Würzburg-Schweinfurt University of Applied Sciences (Germany)
The agreement expands the opportunities for academic mobility for students and teachers in European countries.
Mykola Polyakov, the rector of Oles Honchar Dnipro National University met with Rainer Wener, professor, the director of international relations of University of Applied Sciences of Würzburg-Schweinfurt city (Germany). The purpose of meeting was discussion of cooperation directions that are perspective for both partners. According to the result of previous agreements university leaders signed the bilateral agree mention international cooperation.
The agreement was added to the other 112 bilateral agreements between DNU and educational and research institutions in Europe, America. The agreements give Ukrainian students and faculty opportunities for academic mobility, exchange of lecturers and joint research.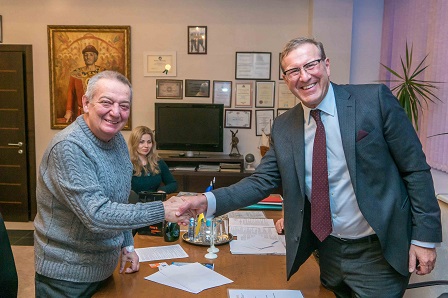 Professor Wener, who coordinates double diploma and MBA programs marked: "Würzburg-Schweinfurt University of Applied Sciences is a state university that offers students 40 undergraduate and postgraduate programs in English and German, hold annual International scientific and practical conferences, conducts active international activities and scientific work. It is one of the largest universities in Bavaria, where more than 9,300 students study. The university cooperates with more than 140 educational institutions in the world".
Rector Mykola Polyakov noted that nowadays DNU has programs for the provision of two diplomas with 10 universities in Europe, in particular, with German Mittweida University of Applied Sciences and the University of Koblenz-Landau. Mykola Victorovich also emphasized: "In recent years 367 our students have been studying in Germany on different programs, 196 lecturers have been training. More than 80 delegations from Germany, including the government, visited DNU".
Rainer Wener also attended the Faculty of International Economics. Mr. Wener with Natalia Stukalo, professor, the faculty dean, and with the heads of departments discussed the exchange of experience in educational, methodological and scientific work. Professor Wener suggested giving lectures at the University of Applied Sciences for professors of the faculty, becoming co-authorship in the writing of scientific articles, participating in conferences. Professor Natalia Stukalo invited Mr. Wener to take part in XVIII International scientific and practical conference "Modern international economic relations: Drivers of success and development challenges", which will be held by the faculty of International Economics in March 2018.
The management of International Economics Faculty has been interested in the specialty for bachelors "International Management", which allows students to study within the Erasmus + program, as well as training of students in the program of double diplomas.
Інформаційно-аналітичне агентство
Дніпровського національного університету