The student of DNU Andriy Govorov set a record on Universiade
Andriy Govorov, swimmer, the master of the Faculty of Social Sciences and International Relations of DNU (specialty "Politics"), won on XXIX World International student and youth sport competitions, which take place in Taipei (China) on August from 19 to 30. The 25-year-old athlete won a gold medal at distance of 50-meters, swimming butterfly.
It is notably, Govorov was the only student-athlete in Taipei, who surfaced butterfly at 50-meters distance from 23 seconds in the final. So, in final swim, our athlete with a result of 22.9 seconds, not only got the first place (he got ahead of his closest rival – Russian Andrey Zhilkin for half a second), but also set a new record for Universiade. Previous record of student competitions was set by Jason Dunford (Kenya) 8 years ago. In particular, since 2009, Dunford's time at 23.09 seconds had been considered to be the best achievement in this discipline.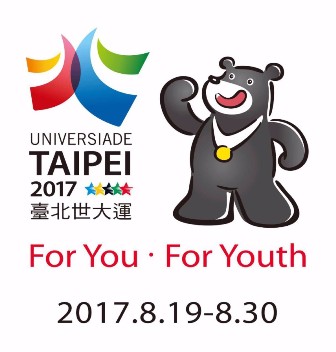 Andriy Govorov consistently has been shown the best result among all the participants – 23.52 and then 23.17 seconds in the previous and semifinal rounds of Taipei Universiade. By the way, Govorov's result at 22.9 seconds is less for only 0, 6 in comparison to Andriy's bronze result at the recent Budapest Championship on water kinds of sport. A little bit was not enough to athlete in order to break personal record, set by him on the 2nd of July in 2016 in Vichy (22.69 seconds).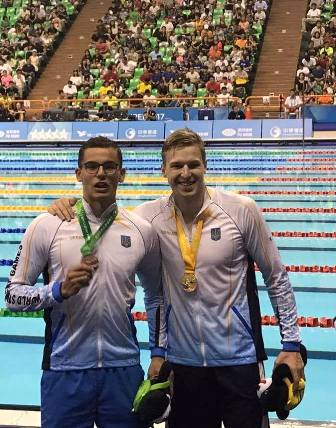 Andriy Govorov with Enrique de Souza Martins, bronze prize winner from Brazil
Today Andriy Govorov is a leader of Ukrainian men's team and, in general, he is considered to be one of the most experienced Ukrainian swimmers. He is a master of sport of international class (specialization – butterfly and crawl). The student is multiple winner of championships and cups of Ukraine, record holder of the country, two-time champion of the First Youth Olympic Games in Singapore in 2010, prize-winner of Youth European and World Championship 2010, champion of Europe 2011, prize-winner of European Championship 2012, and champion of World Universiade on swimming butterfly at 50 meters 2013, European record-holder among youth and so on. Andriy participated in the team of adults in final Olympic Games in London. For successful sport activity he was awarded the Order of Merit of III degree.
Nowadays Ukrainian athlete trains under the leadership of Arilson Silva from Brazil, his personal trainer. Ahead there are new starts (the European Championship on shortwave in 2017) and strengthened training for the 2020 Olympic Games in Tokyo.
Інформаційно-аналітичне агентство
Дніпровського національного університету