US Ambassador to Ukraine Met with DNU Students
Marie Yovanovitch, US Ambassador to Ukraine, visited Oles Honchar Dnipro National University.
She met with the rector of DNU Mykola Polyakov. They discussed achievements and prospects of bilateral partnership. In particular Mykola Polyakov acquainted a respectable guest with main directions of activity of higher education institution, the state of international partnership with educational and scientific US establishments, implementation of academic mobility programs, as well as prospect of fulfillment of common scientific projects.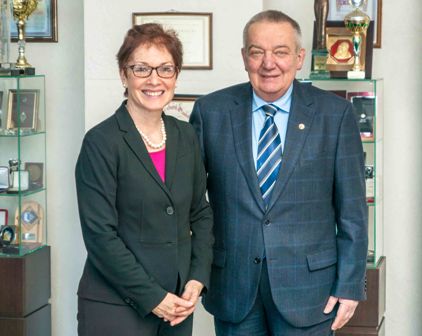 DNU cooperates with US higher education institutions and research institutions fruitfully.
This partnership is carried out within bilateral arrangements, fulfillment of common projects and academic exchanges. Nowadays there are three agreements of partnership with such US higher education institutions as Sam Houston State University, Jackson State University and Colorado State University.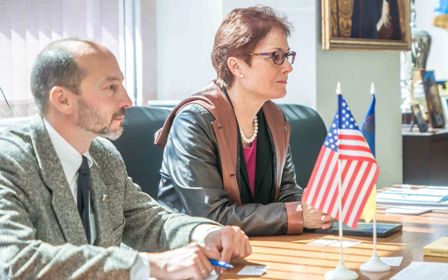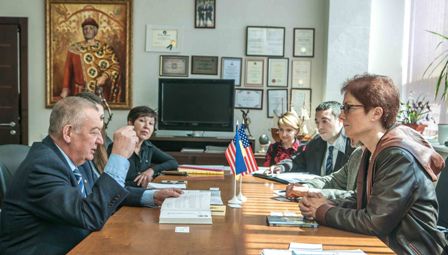 Rector noted: «We are proud of our four teachers, who got grants for the Fulbright Program of Academic Exchange and were directed to US universities on probation period. Also our student of Applied Mathematics Department worked on probation in world-famous corporation «Microsoft». Several our young specialists postgraduate studies, defended their Ph.D. dissertations and now work in American universities. So we hope, effective partnership with American colleagues will continue to deepen, because we have nice reasons. We will be always glad to have new interesting projects with American partners».
It is notable, an Ambassador met with students of humanitarian departments, such as Historical, International Relations, Department of Social Sciences, Department of Ukrainian and Foreign Philology and Study of Art. Yovanovich shared her thoughts about level of social and economic development of Ukraine and state of present diplomatic relations with other countries.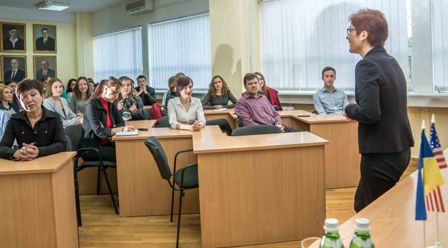 According to Ambassador's words, successful, safe and democratic Ukraine will be always attractive partner both for USA and for any other country in the world. American diplomat assured students in reliable support from the USA to Ukraine.
Інформаційно-аналітичне агентство
Дніпровського національного університету