Solemn Day for Foreign Students
In Oles Honchar Dnipro National University 32 foreign students got higher education diploma solemnly.
The event was started from the handing to 4 most diligent students, who obsess diplomas with honors, which is considered to be nice success rate. There are 32 foreign students this year, including 3 holders of a master's degree. They came to Ukraine for study from 12 countries: Azerbaijan, Turkmenistan, China, Kyrgyzstan, Russia, Jordan, Angola, Gabon, Iraq, Georgia, Belarus, Guinea.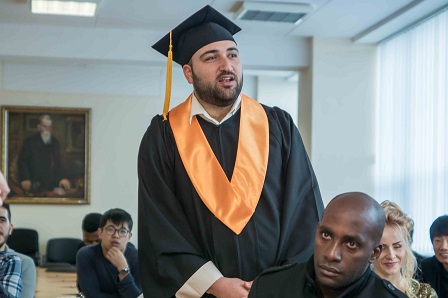 Krystyna Heti, the head of the Department of Training the Specialists for Foreign Countries and Academic Exchanges, noted: "Generally 270 foreign students from over than 20 countries study in DNU. As a rule, foreign students take their first steps in the training at the Preparatory Department, where they study Ukrainian or Russian languages. Traditionally at our University foreign students are paid great attention, they overcome the language barrier and feel themselves more comfortable in our country. So they accustom to the conditions of learning quickly and later they master the educational qualification levels "bachelor" and "master" together with Ukrainian students in basic groups".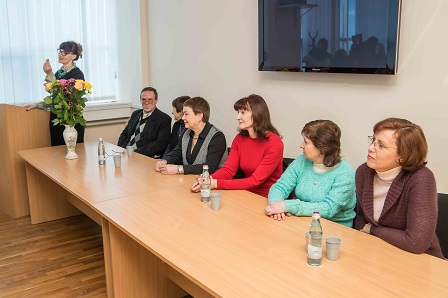 Mykhailo Dyachenko, professor, vice-rector of scientific and pedagogical work in the international cooperation field. Olena Shkurko associate professor docent of Translation and Linguistic Training of Foreigners Department, specialists of the Department of Training the Specialists for Foreign Countries and Academic Exchanges also congratulated the students.
Alpha Manfumbi Chun from Gabon remembered her study at Applied Mathematics Department: "I was the only foreigner, and I can say that classmates and teachers always helped me. Although I remember with a smile how at first my classmates were afraid of me, and then they started perceive me normally, helped, and gave notes. It was hard and frightful to learn language, but language difficulties were quickly overcome. I chose DNU because I had wanted to be a programmer: not every university had such a specialty, besides there are a lot of beautiful buildings in Dnipro. I like Ukraine, if I find a job, I will be happy to stay here".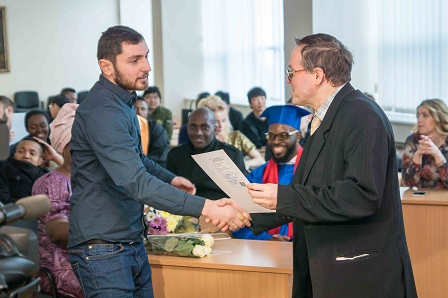 Sameh Balo from Iraq first went to Lugansk, from the early beginning of military actions in the East of Ukraine moved to Dnipro. He shared his memories: "I wondered in the Foreign Dean's Office of the University, if there is a specialty "Mechanics" and received an affirmative answer. In this manner I turned out in DNU". Then he continued his story: "At first I graduated from bachelor degree in this specialty, next I continued study in magistracy and graduated from it with honors. I am going to return to the Motherland. As for teachers in University, they treated us, the foreigners, nicely, helped us, explained everything with patience. For all these things I am very grateful to them. Classmates also treated me kindly. Study was not easy, however in my opinion it's okay, because teachers should be strict with students. I can say I do not feel the language barrier. There were no difficulties in communication after mastering Russian language at the Preparatory Department".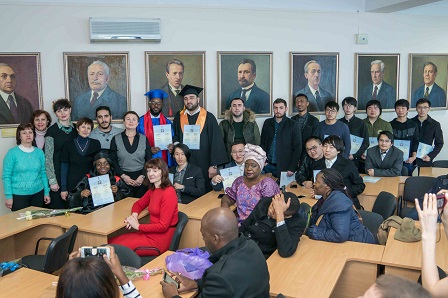 Abdoulaye Tur from Guinea has been living in Ukraine since 2010. He had been studying in Kharkiv at the Preparatory Department, then moved to Dnipro: "I had been studying for 4 years in Prydniprovsk State Academy of Civil Engineering and Architecture. Then I entered magistracy in DNU on the specialty of International Economics". Abdoulaye Tur continued to tell: "Ukraine has good relations with my country, so I chose your country for study. I believe that due to the Ukrainian diploma I could get a good job. In my opinion, education in another country is an important life experience. Because I was used to the Ukrainian specifics over the years of living in Ukraine, so I need to get used to home life again. During 6 years I found many friends among Ukrainians, with such support it is much easier to overcome all difficulties. I think that it will be unforgettable memories for me – moments of mutual support. Guess, it doesn't matter whether you got diploma with honors or without, it is more important, what knowledge you obtained and which one you can apply in real life".
Інформаційно-аналітичне агентство
Дніпропетровського національного університету