Ukraine - Poland: two diplomas program for students of DNU
Dnipropetrovsk National University hosted the delegation of Highest School of Management of labor safety in Katowice (Poland) led by President Malgorzata Sikorska. A framework agreement on international cooperation between DNU and Polish institution was signed during the visit.
Dnipropetrovsk National University was presented at the signing ceremony by First Vice-Rector Alexander Kochubey and vice-rector for scientific and pedagogical work in international cooperation Mikhail Dyachenko, heads of university departments that already have experience of successful cooperation with Polish partners, namely: Dean of the Law Faculty Sokolenko Olga and Dean of the Faculty of Economics Sergey Smirnov and co-chairman of the Ukrainian-Polish center of DNU - Dean of the Faculty of Ukrainian and foreign philology and art Irina Popova and Dean of the Faculty of History Sergey Svitlenko. On the list of Polish delegation there were Deputy President of the Highest School Anna Sikorski and director of the international department Yuriy Maslak.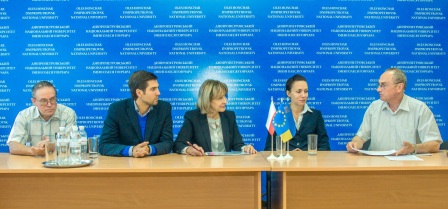 Vice-rector of DNU O.Kochubey emphasized that cooperation with Polish educational and scientific institutions for Dnipropetrovsk National University is important. "Active cooperation with our Polish colleagues began in 1994. During this time there were realized 12 agreements on international cooperation of DNU with renowned universities in Poland, such as: University. Maria Curie-Sklodowska, Technical University of Lodz, Warsaw University, Wroclaw University, Academy of Humanities. Pultusk, Cracow Pedagogical University, Poznan University of Economics, University of Bialystok, School of Economics and innovation. Students and staff are constantly trained in DNU, perform joint scientific work and participate in artistic plein and international competitions in various educational and research institutions in Poland. In addition, since 2009 the Dnipropetrovsk National University at the Faculty of History and the Faculty of Ukrainian and Foreign Philology and Art DNU successfully opened Ukrainian-Polish scientific and cultural center. Today we continue to deepen the ties between our countries, so we're happy to use the opportunity to get another partner from Poland "- welcomed foreign visitors Alexander.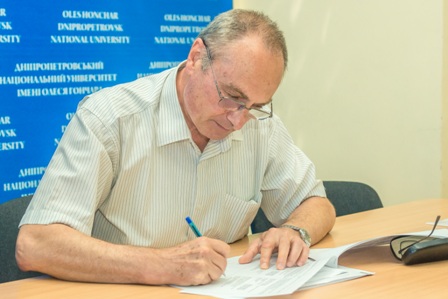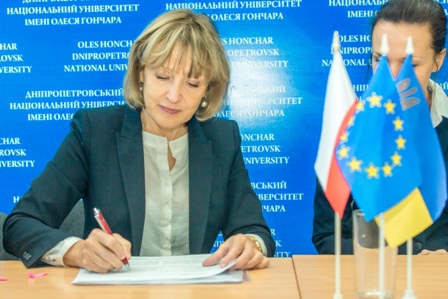 Members of the Polish delegation, in turn, described the Higher School of Management in Katowice, which has been successfully operating for 14 years in the education market in Poland and offers education in five modern areas of study: engineering direction (health and safety, and safety of production processes, environmental management, waste, etc.); management (human resources, counseling and psychology in business); internal security (criminology, public order, fire safety management); cultural science (media relations, public relations, audiovisual products) and English philology. "Over the years, our university has established about 20 international agreements with Ukrainian universities, including several Dnepropetrovsk Universities. In particular, the Ukrainian students in the Graduate School of Management study program of two diplomas.
Інформаційно-аналітичне агентство
Дніпропетровського національного університету