The Arab World Has Become Closer
On November 3rd , 2021, an important and pleasant event took place at Oles Honchar Dnipro National University. Almugheed Amjad Mohammad Mahmoud, a graduate student from Jordan, successfully defended his dissertation for the degree of Doctor of Philosophy in Philology.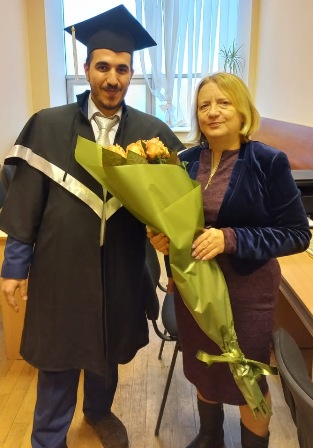 In his scientific work, Amjad Almugheed explored the representation of the basic components of the Arab world on the basis of explanatory, special and encyclopedic dictionaries, as well as fragments from texts of various genres of the National Corpus of the Russian language.
The dissertation was defended at a meeting of the one-time Specialized Academic Council at the Faculty of Ukrainian and Foreign Philology and Study of Arts at DNU. This defense summed up Amjad Almugheed's successful studies in Ukraine: he came to Ukraine in 2010, studied at Donetsk National University, had been studied at DNU since 2011, received a Bachelor's degree and a Specialist degree in English Language and Literature, then graduated Master's degree in "Russian Language", in April 2018 he entered graduate school at the Department of Translation and Linguistic Training of Foreigners and defended his dissertation ahead of schedule.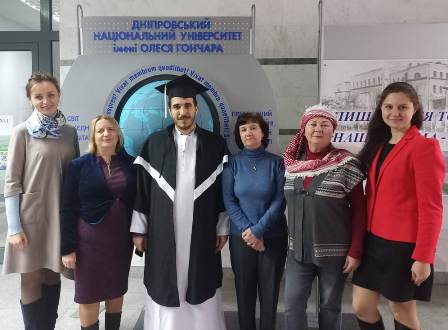 In his final remarks in defense, Amjad said he had two home countries - Jordan and Ukraine. Now he will go back home with his Ukrainian wife and will always remember our country. And we learned a lot of interesting things about the Arab world through communication with Amjad Almugheed and acquaintance with his dissertation.
Helen Panchenko
Supervisor, Doctor of Philology, Professor
Krystyna Heti
Head of Department for Preparation
of Experts for Foreign Countries and Academic exchanges