The memory about the heroes will live in the university
Dnipropetrovsk National University carried out the opening ceremony of the memorial sign in honor of those university graduates who were killed in the fighting in Eastern Ukraine. The event was attended by relatives and friends of fallen heroes.
Deep sorrow and pain echo in the hearts of students, graduate students, faculty and staff of the University all tragic news from the area of Anti-terrorism Operation. Four DNU graduates heroically died defending our right to live in a free and independent Ukraine. Among the first major shocks was the death of assistant at department of political science Pavlo Levchuk. After defending his thesis together with his brothers - 25 paratroopers brigade he returned to the area of ATO on boardif the aircraft IL-76 shot down in the night on June 14, at Lugansk. Later, in an ambush by militants was killed graduate of Mechanics and Mathematics faculty Volodimir Gradisky. Then our losses came up with the death of law school graduates Olexiy Tischik, during the battle for Donetsk airport, and Denis Gavryushin who died near Zhdanivka.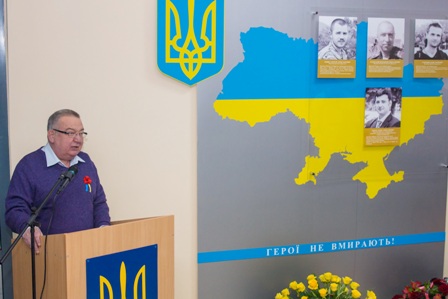 "For the call of the soul, and with deep sorrow of our hearts we have gathered today at the ceremony of memory of our Alma mater inmates killed in eastern Ukraine - said Rector of the University Mykola Polyakov. - Since the end of World War II Ukraine had not been faced with such obviuos aggression. Annexation of the Crimea, Donbass burning ... undeclared, but nevertheless bloody war daily kills our fellow citizens. Today, each of us needs to rethink the meaning of concepts such as "Motherland", "mother earth", "patriotism." External challenges that threaten the very essence of the fundamental bases of our statehood as territorial integrity, sovereignty, the right of people to self-Ukraine do not give us time for way too long thinking."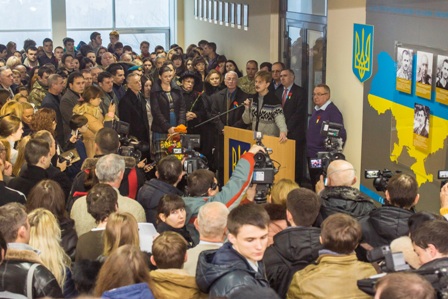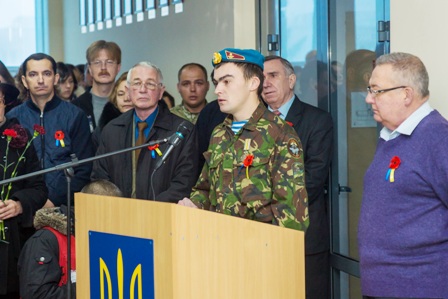 Rector of DNU Mykola Polyakov handed Paul Levchuk's brother Sergiy PhD in Political Science that Paul did not have time to get. Sergiy thanked University for the support: "The death of Paul is an irreparable loss for our family. I want to say that in this difficult moment the university gave us valuable moral and material support, helping friends and colleagues."
The war in the east also came into the life of university lecturer Oleh Repan. With passionate words he addressed to the audience: "When we entered the Krasnoarmiysk, we were greeted with joy. We were provided with everything from the army, but it was not necessary, because we were hosted and provided with food for 2.5 months by local civilians. So the question is: Who's fighting? Such a situation would not have arisen if Russia would't have been supplying weapons and not throwing troops in East Ukraine. I think that is a one fundamental simple thing that characterizes us. We, Ukrainians, are ready to be a community, and our feeling that we are united makes us strong."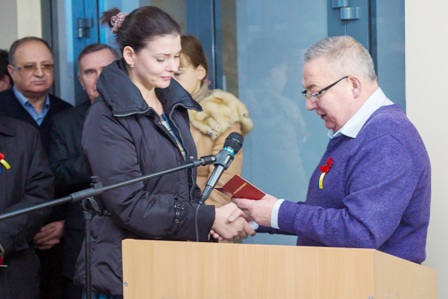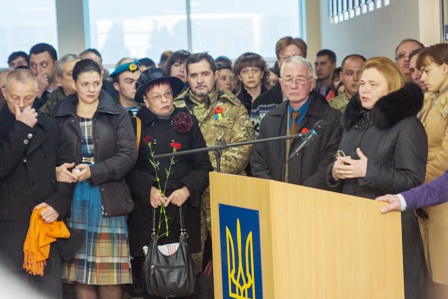 Olexiy Tischik's widow Julia: "Surely, nothing can relieve the pain of mother's heart. This is a great loss for us, but I have to say that we have not lost hope. This war will take more than one life, but I believe that we will win. Alex used to say, "Who will do if we do not?". This is the motto of our defenders, "No will protect our land if we don't." We have to be strong and tell the enemy, who we really are. We are true patriots, we are worried about our country, we are fighting so the the world could see our independence."
Heroes do not die!
Інформаційно-аналітичне агентство
Дніпровського національного університету